Simanor is a business advisory firm serving clients in India and US. Our principals have deep-rooted relationships in both these countries across multiple industries. For businesses seeking to expand and diversify, we actively assist executives in developing specific goals, detailed functional action plans, and internal advocacy needed to identify, capture and implement profitable Investments opportunities that build shareholder value. Our work encompasses a broad range of tasks, from preliminary assessment to detailed analysis, and implementation of strategic initiatives and successful closing of transactions. Our main value proposition lies in unique approaches we take and attention to detail we give to each client and project.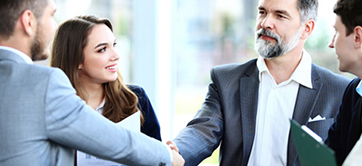 Our advisory services include the following:
Buy-Side Engagements
Review client's growth objectives, and develop acquisition criteria.
Identify potential target companies that meet criteria, and assist client in prioritizing targets to pursue.
Initiate contact with target (through owner(s), senior management, or board member), convey client's interest and rationale for acquisition, and present a convincing value proposition.
Provide preliminary valuation analysis and deal structure options.
Assist in preparing non-binding letter of intent.
Assist in due diligence, negotiations, and post merger integration planning.
Provide input to legal counsel in preparation of definitive agreements.
Sell-side Engagements
Review seller's objectives, expectations, and desired transaction structure.
Prepare blind business profile and confidential information memorandum.
Advise client in selection of potential strategic and financial buyers to target (either on a broad or limited basis), and initiate contact with potential buyers.
Drive the sale process, including establishment of data room, coordination of management presentations, due diligence, facility visits, and analysis of offers.
Assist in negotiating price and other key terms.
Provide input to legal counsel in preparation of definitive agreements.
Additionally, we develop market entry strategies for clients who wish to expand in India or US. We evaluate market size and growth prospects, develop profiles of key players in relevant segments, conduct SWOT analysis, and recommend mode of entry. We also identify potential partners when necessary, and assist in all aspects of establishing a joint venture or strategic alliance.

We also assist clients seeking financing for their organic or inorganic growth strategies. We use our vast network of Commercial Banks, Private Equity Funds and Family Offices etc. to identify the most appropriate financial partners for our clients.